Aluminum Scaffolding And Aluminum Ladders Manufacturing Company, AL BAHRAIN
AL Mateen Scaffolding Industries LLC is one of the leading manufacturers and suppliers of ultramodern aluminum scaffolding and aluminum ladders here in Al Bahrain. We produce, market and supply all kinds of aluminum ladders and aluminum scaffolding specifically designed to meet all the needs for industry, commerce, office, and home uses. We are committed to promoting specialty and competitive products in the areas of portable scaffolding, platforms, and aluminum ladders all around the world through the maintenance of high-quality standards of our products.
Our Area Of Coverage: For Your Stress-free Supplies
Since establishment, we do our best to offer our customers professional quality equipments. We manufacture our scaffolding and ladders in our headquarters at Sharjah, near Dubai, UAE. We also pay real attention to satisfy our customers both on the after-sales service and on the delivery of our products. We offer free stressful and timely delivery to all the areas that we supply our products. Our supply coverage cut across all the regions of UAE and beyond. The areas we supply in UAE include Dubai, Abu Dhabi, Sharjah, Ajman, Umm al Quwain, Fujairah, Ras ul Khaimah, and Al Ain.
As a leading manufacturer and supplier of all kinds of aluminum scaffolding and aluminum ladders, we are also supplying all our products all over the G. C. C. Gulf regions such as; here in Al Bahrain, Kuwait, Qatar, Oman, and Saudi Arabia. At the same time, we supply to Iran, Iraq and other African countries like Egypt, Nigeria, Kenya and Azerbaijan. We do everything possible to make sure that these products are brought to your doorsteps without stress.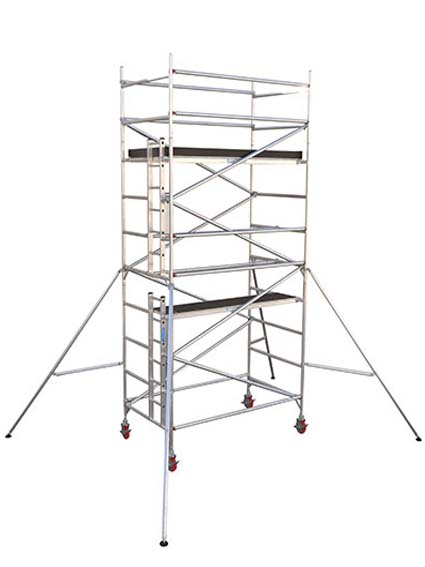 Our Qualities And Commitments
The company, Al Mateen Scaffolding Industries LLC specializes in manufacturing and supplies of all types of aluminum scaffolding for individuals and professionals. We also have a wide range of aluminum ladders that suits all your needs. All our ladders and scaffolding are approved to the new standards in force.
The quality, solidity and the ergonomics of our fabrications are superior in the competitions. All our products are certified by the quality standards of EN131 AND EN1004. Therefore, using our products safeguards you from risk tasks at height as they are all designed and produced bearing in mind adequate securities for the users.
Our Catalogs: For The Best Quality Aluminum Scaffolding And Aluminum Ladders
Lightweight but resistant, and mobile aluminum scaffolding and ladders are the best asset against physical fatigue for anyone climbing a scaffold or ladder. We strive to continually expand our range of products which consists of the following products: Double width aluminum scaffolding tower, Single width lightweight tower, Foldable tower, Podium aluminum steps, and Stairway mobile scaffold towers.
Our range of aluminum Ladders include;  Straight aluminum ladder, A-type dual purpose ladder, Two-way aluminum ladder, Heavy duty two way aluminum ladder, Platform aluminum ladder, Double section straight aluminum ladder, Triple section straight aluminum ladder, Multi-task aluminum ladder, heavy duty platform aluminum ladder, and Plastic top two way aluminum ladder.
We also manufacture other modernized range of ladders such as Fiberglass (FRP) double section straight ladder, Fiberglass single side ladder, and Fiberglass platform ladder.
Contact Us For Supplies
You can get in touch with us for your purchase, enquires and contribution by emailing us through almateenscaffolding@gmail.com or sales@amscaffold.com, or by calling +971 6 5432704 or +971 6 5422781. Quality service and timely delivery of all your purchases are guaranteed.