Aluminum Scaffolding and Aluminum Ladders Manufacturing Company, Qatar
AL Mateen Scaffolding Industries LLC is a leading manufacturer and supplier of all kinds of aluminum scaffolding and aluminum ladders in Qatar. Our products are 100% superior to the norms in force and highly appreciated and recognized over the years as world-class materials by the Professionals in the field.
We make sure that all our supplies are based on the best quality and brands of aluminum scaffolding and aluminum ladders that are desirable to our customers. This can be done very quickly and undergo a simple process. Just making sure that our services to customers (no matter where you are) is extraordinary, just like our products are.
Our manufacturing and all other product processing departments such as; designing,  technical, production, commercial, as well as administrative departments are based in our headquarters at Sharjah, near Dubai, UAE though we are offer quick and smooth supplies of all our products all around Dubai, Abu Dhabi, Sharjah, Ajman, Umm Al Quwain, Fujairah, Ras ul Khaimah, and Al Ain.
In the same vein, we supply our products all over G. C. C. Gulf countries like Oman, AL Bahrain, Saudi Arabia, Kuwait, and Qatar as well as other Asian and African countries such as Iraq, Iran, Nigeria, Egypt, Kenya, and Azerbaijan among others. Therefore, buying our products is a big advantage for you as we are ever ready to bring it to your doorsteps no matter where and when you need them. All you need to do is to place the order and we will get the job done perfectly well for you.
Our Areas of Specialization: For Your Professional Uses
Our specialties cover a multitude of products that have been proven to provide the users with the fastest, safest and most economical solution with quality aluminum scaffolding and aluminum ladders for your work at height: all forms of mobile towers, sale of aluminum scaffolding, and multidirectional scaffolding.
Our diversified aluminum scaffolding and aluminum ladders catalogs include the following:
Double width aluminum scaffolding tower
Single width lightweight tower
Foldable tower
Podium aluminum steps
Stairway mobile scaffold towers
And the following for ladders;
Straight aluminum ladder
A-type dual purpose ladder
Two-way aluminum ladder
Heavy duty two-way aluminum ladder
Heavy duty platform aluminum ladder
Double section straight aluminum ladder
Triple section straight aluminum ladder
Multi-task aluminum ladder
Plastic top two-way aluminum ladder
We also manufacture and supply different fiberglass ladders and platforms.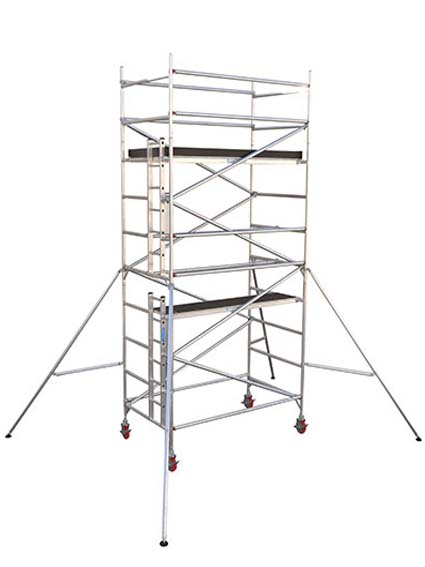 Services You Get With Our Products: Opportunities to Meet Up With Your Aluminum Scaffolding and Ladder Needs
The lightweight aluminum scaffolds are designed for easy assembly, with maximum safety and stability, by the best Standards in the field. The joints between pipes are welded with maximum platform height up to 7.2 meters and can carry a heavy load on the tower.
The aluminum scaffolding for low heights has been designed to solve the problems of those professionals who in their work, they are raised work at height, for which, the aluminum scaffold for low heights gives the best solution allowing you to reach a working height of 9.2 m with stability and with the possibility of positioning the height of the platforms every 25 cm. The scaffolding of aluminum for low heights is a scaffolding class 3, the highest category existing for this type of aluminum scaffolding. So, aluminum scaffolds for low altitudes will be your best ally to ensure safe work in those places where a ladder would represent a risk.
Both of the aluminum scaffolding and aluminum ladders are ideal for works of false ceilings, installation of plasterboard, industrial maintenance, gardening, electrical installations and maintenance, cleaning, building conditioning, etc. They are also certified according to the EN131 AND EN1004 norms, so they are suitable for jobs where safety is a priority. Also, to facilitate the assembly, we have a folding base module that will allow you to mount more quickly and go through standard doors and corridors.
Contact Us Today For Your Essential Scaffolding and Ladder Services
Giving a service that is beneficial to both of the manufacturer and the buyers is the principal of which our company is built on. We are highly committed to ensuring that all our products and services are of internal standards and the best interest of our customers. You can contact us for your inquiries or contributions through our official mails on almateenscaffolding@gmail.com or sales@amscaffold.com, or by calling on +971 6 5432704 or +971 6 5422781. Your satisfaction is always our happiness.